Video: Six thrilling BO3s edge us towards playoffs - moses recaps PGL Major Antwerp
The PGL Major Antwerp had us glued to the screens for over 12 hours on Monday - the Recap by GG.BET explains what went down.
The incredible amount of action that happened on the next-to-last day of the Legends Stage adds up for a packed episode of the PGL Major Antwerp Recap by GG.BET, which is presented by the expert host Jason "⁠moses⁠" O'Toole.
Even without closing your eyes, it was difficult to follow all of the action
The elimination games started with Vitality's thriller against BIG, which they edged out by the smallest of margins as Mathieu "⁠ZywOo⁠" Herbaut put in a master class to keep his team afloat. G2 then ousted Outsiders in an exciting series that showed the peaks and valleys the international team can offer, while the final game between Imperial and Cloud9 can hardly be explained: watch the recap, or better yet the VOD to witness a match that will be talked about for some time.
On the other hand, FaZe fought off a resilient Copenhagen Flames to ensure a place where everyone expects them to be, the playoffs, and they will be joined there by NIP following an unexpectedly clean victory over FURIA. Finally, Marco "⁠Snappi⁠" Pfeiffer took down his countrymen from Heroic to make it to the arena, where a few of his teammates will play for the first time.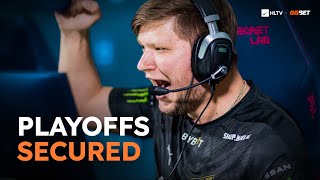 Related video
NAVI clinch 3-0 record as Legends stage heats up
Make sure to subscribe to our YouTube channel to see the upcoming episodes of the show, and check out GG.BET's offer in the video's description.
Jason 'moses' O'Toole
Mathieu 'ZywOo' Herbaut
Marco 'Snappi' Pfeiffer