IEM Rio announced as 18th CS:GO Major
The Valve-supported world championship will take place from October 31-November 13.
- ESL will host the upcoming CS:GO Major in Brazil
- 24 teams competing for $1,000,000
- Playoff tickets on sale starting Wednesday
ESL has confirmed that the next CS:GO Major will take place in Brazil, as was widely speculated and reported. The event will be hosted in Rio de Janeiro, where the 16th CS:GO Major was supposed to take place in 2020, but was ultimately cancelled due to the coronavirus pandemic.
IEM Rio will be the first Major to take place outside of Europe and North America
The early information implies that no big changes to the Major system are to be expected, as 24 teams that qualify through RMR events will be competing across three tournament stages that start on October 31.
Most of the tournament will take place behind closed doors, but for the playoffs on November 10-13, fans will be welcomed in to watch the games in the Jeunesse Arena which has a capacity of 15,000-22,000 people, depending on the setup. Just like the latest Major, PGL Antwerp, IEM Rio will feature a $1,000,000 prize pool.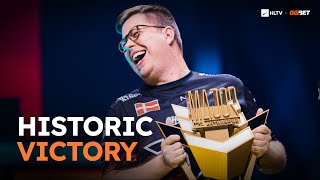 Related video
How FaZe won the Major final | PGL Major Antwerp grand final recap by GG.BET (ft. moses)
IEM Rio marks ESL's return to Brazil after hosting ESL One Belo Horizonte and ESL Pro League Season 4 Finals in the South American country in the past, and will be a historic event as it is the first CS:GO Major set to be hosted outside of the two main regions, Europe and North America.
"We couldn't be more excited to finally bring the Major to Rio de Janeiro," said Ulrich Schulze, SVP Product Management at ESL Gaming, in the announcement.
"The ever-growing and passionate Brazilian esports community is amazing and for the past couple of years we have been hoping to provide the fans with one of the greatest esports experiences ever. Now the time is finally here and we can't wait for the world's best CS:GO teams to ultimately enter the Jeunesse Arena and have it shake to its foundations from the excitement from Brazil and beyond."
Read more
ESL One: Rio 2020 Major cancelled due to coronavirus pandemic
Tickets for the event will go on sale on Wednesday, May 25, at 19:00 , with prices ranging between ~$19 for single-day early-bird tickets and ~$400 for lounge tickets. Tickets purchased for the 2020 event remain valid for the upcoming event. Find more information about tickets here.
Time is adjusted to your selected timezone